Lady Elliot Island Freediving, Breathwork & Yoga Expedition
04feb(feb 4)10:00 am10(feb 10)11:00 amFeaturedLady Elliot Island Freediving, Breathwork & Yoga Expedition10:00 am - 11:00 am (10)(GMT+11:00) View in my timeLady Elliot Island Eco Resort, Lady Elliot Island Eco Resort Lady Elliot, QLD 4805 Australia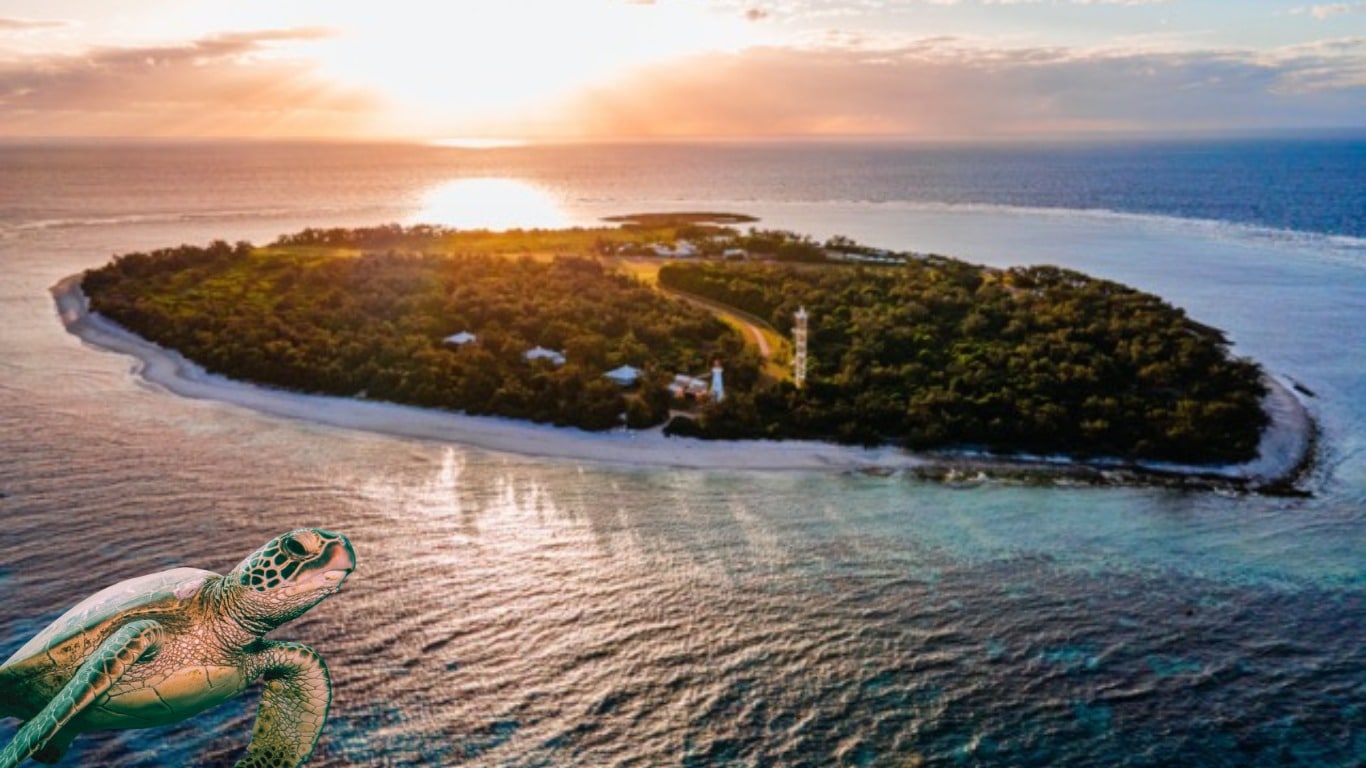 Event Details

Learn how to Freedive at our "Lady Elliot Island Freediving & Breathwork Retreat" and explore the underwater world on just one breath.

Freedive in crystal waters where whales, manta rays and turtles swim, immerse yourself in nature and connect above and below the surface on this magical island retreat.
LADY ELIOT ISLAND
Lady Elliot Island's pristine lagoons and reefs are home to some of the world's most incredible marine life. Humpback whales, dolphins, manta rays, turtles and a myriad of fish grace these crystal clear waters where we will snorkel, dive and swim. One of the most important seabird nesting sites in the Great Barrier Reef, the island is also a magnet for bird watchers. It's a mini paradise on Earth and we can't think of a better place to explore, expand and exhale.
7 days/6 nights on Lady Elliot Island Eco Resort
Freediving and snorkelling trips
Yoga and or breathwork classes
Glass bottom boat trips
Boat charters from the island for diving trips
PADI Freediving eLearning materials and certification
Guided island tours conducted by master reef guides
Humpback and manta ray spotting
A magical, exhilarating night dive
Why Should I Come Along to the Lady Elliot Island Freediving & Breathwork Expedition?
Lady Elliot Island is part of one of the 7 natural wonders of the world. There are very few places on the planet that can match the wonder that exists here, both above and below.
Hence, what better place to reconnect with yourself, nature and the power of both?
Deepen your personal connection with the natural world through daily freediving, snorkelling, yoga and breathwork classes. Here you'll observe the natural beauty of the reef from above. Also, learn from experienced island guides. Thereupon, watch as humpback whales and manta rays pass by on their annual migration. Finally, dive deep into the night before resurfacing and returning to the real world, refreshed, rejuvenated and refocused.
We will organise and take care of everything. So, all you need to do is turn up with an open heart, a willingness to go deep and ready to connect on a totally different level.
What is Breathless?
Breathless is the space between science and the unknown, between the head and the heart, between learning and feeling, the space between doing and being,
between who you are and who you are becoming.
Combining ancient breathwork techniques with revolutionary neuroscience and studies into human potential, we believe that by learning to become aware of our breath and how it impacts on us, we can influence our health, our mental state, the way we feel, the way we move and ultimately, the way we live.
As Australia's No. 1 leading breathwork educational program, we are all about getting out into nature and into our souls. So… get high, go deep and let your breath set you free.
This retreat has been designed for those who are:
Interested in freediving, exploring the Great Barrier Reef.
Embracing a deeper understanding of self and the connection between emotions, breathing patterns and the natural world.
Looking to unlock energy, break free from fight or flight responses, lower anxiety levels and eradicate repressed or held emotions, and
Keen witness the beauty of this stunning setting in a unique and expansive way
As a result, seeking to explore personal limits in a safe, held environment.
What Makes This Retreat Special
This retreat offers a holistic approach to freediving, combining the exhilaration of underwater exploration with emotional healing through breathwork and yoga.
Freediving with manta rays is a unique and special experience because it allows you to:
Connect with Nature: It offers a chance to interact with these graceful creatures in their natural habitat, forging a deep connection with the marine world.
Close Encounters: Freediving allows you to get up close and personal with manta rays, experiencing their majestic presence without the noise and disruption of scuba gear.
Intimate Experience: It's a more intimate and peaceful way to observe mantas, as you move through the water on their terms, often without the bubbles and equipment associated with scuba diving.
Unforgettable Memories: The sheer beauty and serenity of freediving with manta rays create memories that are both exhilarating and profoundly moving, leaving a lasting impact on divers.
Discover the transformative power of breath for enhanced performance and well-being. Set in a stunning location, you'll connect with like-minded individuals while receiving personalized coaching to unlock your full potential.
more
Time

4 (Sunday) 10:00 am - 10 (Saturday) 11:00 am(GMT+11:00) View in my time
Location

Lady Elliot Island Eco Resort

Lady Elliot Island Eco Resort Lady Elliot, QLD 4805 Australia
FACILITATORS
Johannes Egberts

Johannes Egberts

Founder

Breathless Expeditions

Breathless Expeditions Founder Johannes Egberts is considered Australia's Leading Breathwork Instructor.

Johannes's inspiring life journey is punctuated by seeking the positives in every situation, a thirst for self-discovery and a love for unconventional experiences.

Despite a challenging childhood, he discovered something unexpected that would alter the direction of his life forever – controlled breathing.

Breathwork immediately resonated with Johannes, and he relentlessly cultivated knowledge on the subject and acquired more than ten breathwork certifications.

His holistic wellness brand, Breathless Expeditions, has led the breathwork movement in Australia, inspiring thousands of people across the globe since 2018.

He is predominately known for his Breathwork Instructor Training programs and for creating unique experiences in the corporate world.

He offers experiences to every industry for fostering team building and life resilience with an impressive clientele portfolio ranging from professional athletes to renowned authors and high-profile. Click here for Corporate Wellness Opportunities.

Netherlands-born, he has trainined 20,000+ in breathwork, published scientific research and trained more than 300 instructors.

Founder

Luciana Blanco Villegas

Luciana Blanco Villegas

Freedive & Breathwork Instructor

Luciana is a passionate freediving instructor, yoga and SUP yoga teacher, breathwork and reiki master. Above all, she's an ocean lover who can't spend a day without salty water.

Luciana's experience in transcending autoimmune diseases and conquering fears through freediving has ignited her mission to help others push past their limitations, heal from past or present traumas, and expand their boundaries, using the power of breath and movement.

Join her in the journey towards holistic healing and self-discovery at Breathless and discover a new level of inner strength and vitality.

Freedive & Breathwork Instructor
Schedule
Day 1
Day 2
Day 3
Day 4
Day 5
Day 6

august 14, 2023

- Day 1

Fly into Lady Elliot on our private plane and meet the marine life from above. The reef is so crystal clear that it's not uncommon to see whales and rays around the island before you've even landed. After checking into your eco cabin, we'll be exploring the reef and dive sites from the comfort of our glass bottom boat.

Speakers: Johannes Egberts, Luciana Bianco Villagos

august 15, 2023

- Day 2

After morning yoga and breathwork on the beach, you'll have the chance to explore the lagoon at low tide. We'll have a training session in the pool before heading out on our first

free dive. You're then free to spend the afternoon soaking up the sunshine, reading or exploring the resort.

Speakers: Johannes Egberts, Luciana Bianco Villagos

august 16, 2023

- Day 3

Fall into the pace of island living. As well as our two daily dives and yoga classes, you'll be able to visit the pisonia forest and take part in a breathwork ceremony with sacred cacao and the magic of nature all around us.

Speakers: Johannes Egberts, Luciana Bianco Villagos

august 17, 2023

- Day 4

A day to fully immerse yourself in nature. We'll swim through caves, watch the dolphins play, observe the turtles, manta rays and maybe even catch sight of a whale or two. At sunset, settle back for the spectacle that is the bird colonies returning to the island and marvel as orange fades to purple and the stars come out in force.

Speakers: Johannes Egberts, Luciana Bianco Villagos

august 18, 2023

- Day 5

Our final full day of dives, yoga and breathwork lectures in the ocean conservation centre. A chance to pause and reflect on the past few days and to revisit favourite places before a a farewell dinner and stories under the stars.

Speakers: Johannes Egberts, Luciana Bianco Villagos

august 19, 2023

- Day 6

Yoga, breathwork and one last swim before flying back to Harvey Bay.

Speakers: Johannes Egberts, Luciana Bianco Villagos
FAQ
What do I need to bring?
● Personal dive gear
● Clothing for a tropical environment
● Insect repellent
● Sunscreen/sun protection
We recommend bringing as little as possible. Expect no phone reception and no high speed wifi. Just plenty of sunshine and wonder!
Please note that baggage allowance is 1 dive bag and 1 checked bag per person (no more than 15kg in total).
*Note that if you'll be borrowing dive equipment from us your checked allowance will be of 10kg in total
If you need to be reached by phone, anyone can call you at the eco-resort. There is paid wifi at reception.
How do I get there?
You'll need to get yourself to Harvey Bay, Bundaberg, Brisbane (Redcliffe) or Gold Coast airport. From there, you'll be whisked away to Lady Eliot Island and dropped off afterwards.
In 2023, Return Flights from Hervey Bay to Lady Elliot Island on Seair Pacific cost approximately $440.00 per person
Return flights from Gold Coast approximately  $865.00 per person or Brisbane (Redcliffe) cost approximately $965.00 per person
Flights to and from the island are not included in the booking price and will be charged separately 30 days out from the retreat.
What can I expect from food & accomodation?
The Eco-Resort
Just a short walk from the lagoon, each eco cabin has been designed to fit into the natural surroundings whilst providing the ultimate in comfort and relaxation. Bathroom facilities are shared and each cabin is equipped with power points, ceiling fan and a deck for taking in the beautiful surroundings.
The Banquets
The Beachfront Dining Room is the only restaurant on Lady Eliot and is known for it's delicious, nourishing cuisine. Upon booking, you will be sent a form to let us know of any dietary requirements.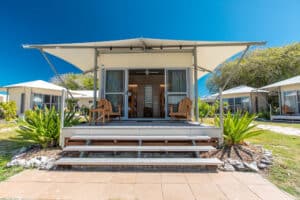 How might a day on the island flow?
💨 Morning Breathwork Magic – Move, Breathe, and end up giggling on each others bellies for be best part of 30 minutes
🐬 Freedive session #1 – Learn to relax into intensity, reach new depths whilst encountering those fleeting moments of timelessness facing Manta Rays and reef sharks
🍃 Eco Resort Lounging – Soak up sun, doze off, read or explore what low tide washed up with the master reef guides
⛵ Glass Bottom Boat trip – Mantas, whales and more 🦈- forget about numbers and performance and just explore, swim through caves, caress turtles and play with the local dolphin
🏝️ Explore the Island – venture into the Pisonia Forest when a magic clearing appears and we open up a Breath-work ceremony, drinking sacred Cacao & connecting even deeper
🌅 360 Sunset Magic – Watching the shark fins and manta wingtips trail across the horizon as we savour the moment.
🕊️ The bird colonies return to the island in mass, creating an indescribable spectacle as their numbers black out the purple hues of the last moments of day
🌠A magical night dive – Secrets of the Great Barrier Reef unfold in the Eerie underwater world, hold on tight to eachother and chase the phosphorescence
🌙 Resting in the Eco Cabins in wonder at what depths and heights tomorrow will bring. Can't fathom we have another 5 days of this ahead….
Freediving is an incredibly relaxing activity that combines disciplines of the body and the mind. We will guide each guest individually to their own ability and limits. If for any reason you don't feel like diving, you can still have a blast snorkeling around crystal clear waters or maybe doubling up on your yoga practice. Our Freediving instructors are very experienced and take safety very seriously, you are in really good hands.
Can we fish on Lady Elliot Island?
Situated within a highly protected 'Green Zone' the coral cay is a sanctuary for over 1,200 species of marine life and is known for its abundance of manta rays, turtles, amazing array of spectacular marine life and unspoilt coral reef. No fishing or spearfishing is allowed.
Do we need any prior experience?
No experience is required to join, we teach all levels of freediving including beginners. It's recommended to swim in the ocean regularly as preparation and get used to wearing some freediving equipment such as fins, a mask and a snorkel.
What if I'm not interested in Freediving?
No problem at all! Come hangout on the amazing glass bottom boat tours, snorkel, swim in the lagoon and explore the reef with the Master Reef Guides. There will also be epic Breathwork classes, daily yoga and workouts and much more activities for everyone.
Medical
Lady Elliot Island is a remote location, 80km from the Queensland coast. There is limited air access and neither Lady Elliot
Management nor Breathless hold liability for any flights and/or state of emergency transportation services in relation to accidents or illness
whilst on Lady Elliot Island. We strongly recommend travel insurance to cover any unforeseen circumstances. Qualified Senior First
Aid Officers are on Island for any first aid issues. We also have a well equipped First Aid room which houses oxygen, a defibrillator, a
Royal Flying Doctor Service (RFDS) emergeancy medical kit and other standard first aid equipment.
What is the average age range?
Our retreats attract a diverse range of participants in terms of age. While we frequently welcome families, with parents who are vibrant and youthful in their 50s to 60s, along with their young adult or teenage children, the majority of our attendees fall within the 20 to 40-year-old age bracket. We pride ourselves on creating an inclusive and enriching experience that appeals to individuals from all walks of life and various age groups.
Should I bring my own weights?
No need to bring your own weights; we have them available for you at the dive shop.
Do I need travel insurance?
Just like any overseas trip, having personal travel insurance is good to have for your own protection and peace of mind, but not mandatory.
What style of yoga do we practice during the retreat?
Our yoga sessions are specially designed for freediving, focusing on enhancing flexibility. These sessions are suitable for all levels of yoga practitioners, from beginners to advanced. Depending on the days and the intensity we put on our bodies during the different stages of the training days, we will practice Hatha and Vinyasa styles of yoga some days, and Restorative and Yin on others.
Are solo travelers welcome?
Yes, solo travelers are absolutely welcome on the retreat in Amed. It's a fantastic opportunity to meet like-minded individuals, and many of our guests come alone and form lifelong friendships during their stay.
Is the retreat flexible? Do I have to attend all the activities?
While we highly encourage participants to take advantage of the wide range of sessions we offer, it's important to emphasize that all activities are entirely optional. Your retreat experience should be tailored to your preferences, allowing you to create the most enjoyable and fulfilling holiday possible. This is your time to relax, rejuvenate, and make the most of your journey with us, and we're here to ensure it's everything you want it to be.
Deposit/Cancellation Policy
Non-refundable deposit due within 30 days of booking date – $1,200 – This includes PADI certification and online pre-learnings material access.
Final balance due 60 days prior to travel date.
100% cancellation fee if all or part of booking cancelled inside 60 days of event.
Special Terms & Conditions
To run the Lady Elliot Retreat, a minimum number of bookings is necessary. Up to 14 days in advance of the start date, Breathless Expeditions will be able to cancel the trip. In this case, a full refund of all payments including the deposit will be returned to customers. With your booking, you agree that Breathless Expeditions will not be held liable for any other travel arrangements clients could have made, including but not limited to flights and transportation bookings.